What Metricool is and what it is for
Metricool is a social media analytic and planning tool to measure, analyze and manage online content and digital campaigns…. and we bring you Metricool's Mega Tutorial to learn everything about our tool!
With Metricool you can:
✅ Analyze your digital content: Instagram, Facebook, Twitter, Google My Business, LinkedIn, Facebook and Google Ads campaigns, Youtube, Twitch, etc.
✅ Easily plan your social media and Google My Business publications;
✅ Create reports with all your data automatically;
✅ Know what's going on in real time on your website or blog;
✅ Check the best time to publish;
✅ Collect data about your social media competitors;
✅ Track hashtags on Instagram and Twitter;
✅ Add links to your Instagram images.
✅ The option to add multiple links to your Instagram account.
✅ Get all your social metrics with Metricool.
✅ Monitor your work on social networks with Metricool's mobile app, available on iOS and Android: Here's a mega tutorial on how it works.
And also with Metricool's white label, you can provide Metricool's panel so your customers can manage their own social media profiles from your system or website.
You can also offer access to your teammates to view the metrics and information on your social channels: I'll show you how to do it here.
How to create a Metricool account: First steps
If you want to create a free account, click "Sign Up Free" and fill in the fields needed to start a new account:
↪️ Also, you can register with your Facebook account directly.
Once you fill in the fields a message will appear where we inform you that you will receive an email to verify your account.
Once you verify your account, you will become a Metricool user and be able to connect your social media accounts.
HOW TO CONNECT YOUR SOCIAL MEDIA ACCOUNTS TO METRICOOL
After having created your Metricool profile, next connect your social media accounts to start viewing the metrics you need.
To do so, choose "connections" on the drop-down menu placed on the top-right corner of your screen.
All the accounts that you can connect will be displayed, simply click on the account you want and follow the instructions.
Website and social media content management
One of the things you can do with Metricool is analyze your website and manage your social networks.
You can integrate Metricool with WordPress, Joomla, Shopify or Wix: Follow the next steps here.
EVOLUTION: METRICS
In the first tab Evolution, you can review all the relevant metrics related to your accounts on Metricool.
Select the social network that you'd like to analyze on the left side of the screen. You can choose the period of the data that you want to examine on the top-right corner.
You will gather information about your website or blog, social media accounts and digital campaign accounts that are connected to Metricool.
Web or blog
You will have access to information such as:
The evolution of your page: visitors, comments, visits and number of page views.
The countries from where users visited your website.
Page views and traffic sources.
You can also offer access to your teammates to view the metrics and information on your social channels: I'll show you how to do it here.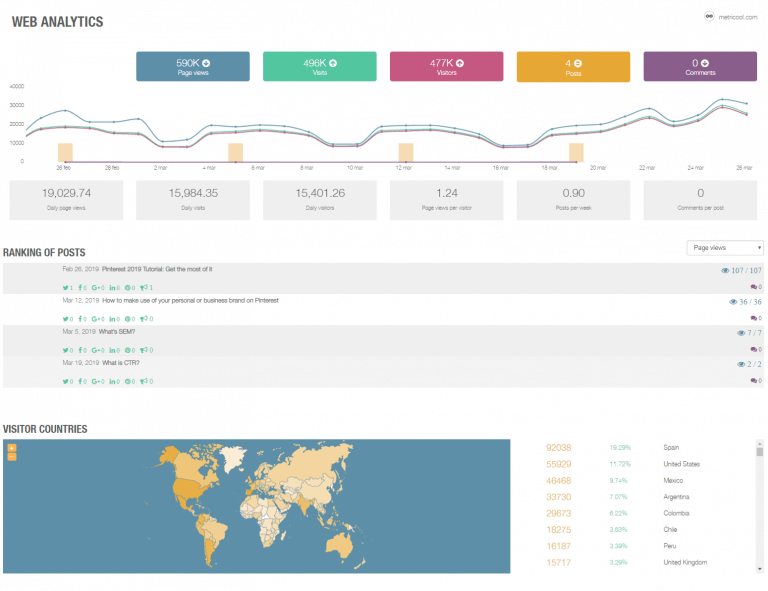 Social Media
Community growth.
Followers balance.
Evolution of your posts and ranking of the best publications.
Analysis of your competitors.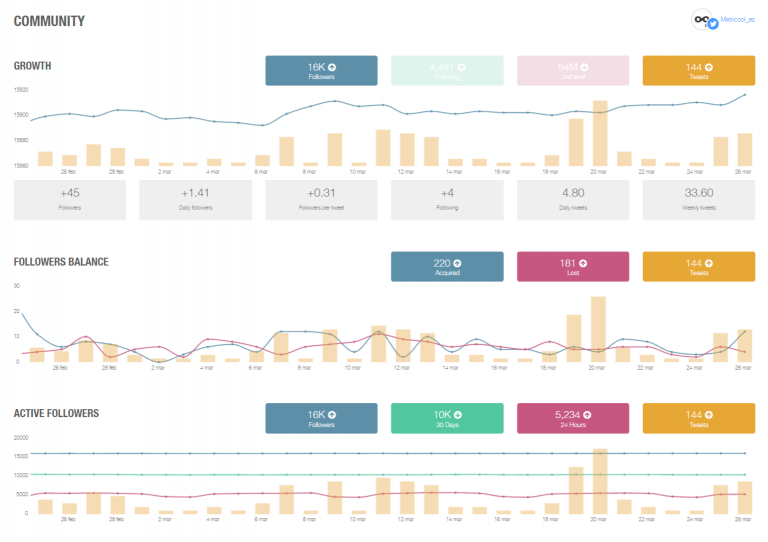 Digital campaigns accounts
Reach and results of digital campaigns.
Table with your campaigns ordered by the metric of your selection.
REAL TIME
In the second tab on the menu situated at the top of the screen, you can choose "Real Time". In this section, you can see all the information relevant to what's happening on your website or blog in that exact moment.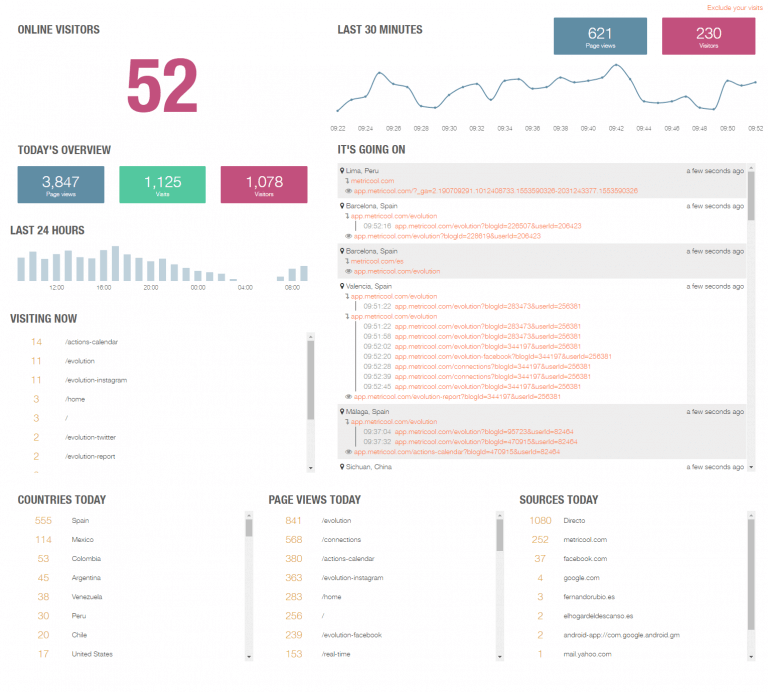 This is the information you will get:
✅ The current number of online visitors on your blog and who has visited your webpage in the last half hour.
✅ Today's page views, visits and visitors.
✅ The latest articles or pages that users are visiting.
✅ Information about where today's visits are coming from (day, hour and source).
✅ Real-time traffic sources and a summary of today's traffic.
Besides analyzing what's going on in real time on your web page or blog, you can also discover what's happening on Twitter and use benchmarking to measure yourself against your competitors on this social media platform.
✅ Check the evolution of tweets published in the last 8 days and a classification by originals, retweets and replies. Also, you can see if those tweets included links, images or videos.
✅ Interactions in the last 8 days.
✅ Your best friends (people who interact more with you).
✅ Your followers and people who are followed by you.
✅ Your TikTok account and TikTok Ads
Data Studio
Another of the functions that interest you for the analysis of social networks is Data Studio.
Data Studio is a Google tool with which you can generate data dashboards with the information provided by the search engine's other tools: Search Console, Analytics, Ads and My Business.
To connect your social networks you need external applications, but with Metricool you can do it directly and create data panels with the social networks you have connected.
PLANNING
From the planning tab you can schedule all your content on Twitter, Facebook, LinkedIn, Google My Business and Instagram.
To create and program your publications, we provide you with a calendar where you can see your content more visually.
▶️ You have the option to directly mention other LinkedIn pages when planning from Metricool.
▶️ You can also mention other pages on Facebook and schedule up to 10 images per post on Instagram and Facebook.
▶️ Schedule carousel on Instagram.
▶️ Program Instagram videos with Metricool.
▶️ You can schedule Instagram Stories and Instagram Reels with Metricool.
▶️ Look for the most relevant hashtags when scheduling your content on Instagram. Avoid having the post full of hashtags that don't help to rank your content better.
▶️ Add a cover photo to your scheduled video on Instagram. To activate this option, click on the 'auto' button once you have uploaded your video to the Metricool planne
▶️ Choose the location of your post on Instagram and Facebook.
▶️ Schedule Pinterest content and add or create a new board to sort your feed.
▶️ Plan and Schedule your TikTok Videos.
Calendar 
From Metricool's calendar you can accomplish different tasks:
Create new publications.
Duplicate them.
Edit or drag them to any day and time.
Check how the days, weeks and months of your social media accounts are organized.
Right above your calendar, you can look at the icons of the social networks connected to Metricool. You can filter the publications planned per account by clicking on the icons.
In the calendar, you can see all the past content and the ones that have yet to publish.
If you want to program content from scratch:
Click on the bar below "New Post" and a pop-up window will be displayed to add and configure your post. Also, you can access the same pop-up window by clicking on the day and time you want to publish.
Save and done!
Best time to publish
In addition to planning and programming your content on social networks, Metricool lets you know when the best time to publish is on each of the social networks that you have connected to our tool (Twitter, Instagram or Facebook).
Metricool extracts this information based on when there are more interactions in your community, so you get more visibility, a higher traffic and therefore, more engagement.
Choose the best time on for Twitter, Facebook or Instagram. Immediately, different shades of color will appear on the calendar: Pink for Instagram and Facebook and blue for Twitter. The darker the hue, the better time to publish on your networks.
Now, in addition to having the darkest color to identify the best hours, you can see it as a percentage of active followers. With this feature, you get a better precision about the active users on the platform in a specific period.
To enable this option, click on the icon to the left of the filters. If you have the calendar cover with multiple posts, these scheduled posts will not let you see these percentages: you can see them by clicking on 'Filters' and uncheck all the social networks to show the calendar clean.
Keep in mind, too, that each social network has its own criteria. Facebook and Instagram do offer statistics of active users at certain hours. Twitter indicates the hours when your followers have 'tweeted' the most.
FEED PREVIEW
With the Instagram preview, Metricool allows you to see how your feed will look with all the posts you have scheduled before they are finally published.
What are the benefits of accessing this feed preview?
It helps you keep an organized feed by scheduling the posts in an order that leaves a feed to your liking.
It allows you to change the design of the images before they are published if it doesn't quite convince you how they look in the feed.
You can check how your feed will display with all the posts you have scheduled. (including draft posts)
Autolists
An Autolist is a group of publications to be shared on different social networks. The content can be scheduled periodically so you can relax with the peace of mind that your social networks are well taken care of.
With autolists you can:
Automatize the planning of your publications
Save time
Organize a group of publications
Within the planning section, you can find autolists on the menu situated on the left. You can create all the autolists you want, pause them or make autolists to work as a circular list so, once the last post in the list is published, it will start again with the first publication automatically and so on.
You can create the content of the autolists in three different ways:
Manually: Adding one by one the publications that you want to appear in the autolists.
Uploading a CSV file: The publications will be added automatically.
Adding an RSS feed: Add the RSS feed's URL of any website. Simply configure your posts and they will be published automatically.
Google Chrome Extension
Metricool has a Google Chrome extension that you can download and install on your browser to plan your social media content whenever you want.
While you are browsing on the Internet, you can directly share any content to your social networks thanks to this extension.
Imagine that you are reading some news that you'd like to share on Twitter. With Metricool's extension, instead of copying the URL, going to your account and pasting it, just click the extension and post or plan it directly with Metricool.
Online campaigns management: Google Ads and Facebook Ads
Add your online advertising account to Metricool and analyze the most relevant data. With Metricool you have all in one place.
You can create your Google Ads account with metricool, analyze and manage all your data.
GOOGLE ADS
With Metricool you can create your own account on Google Ads, start from scratch and analyze the ads. All from the same platform.
Link your Google ads account to Metricool and you will view all the metrics related to your ad campaign. You will:
Have all the information together.
Create reports with all the analytics of your campaigns.
Compare the performance of all your ads
The metrics you obtain are:
The reach of your ads.
The result of your campaigns.
The performance of your ads.
You will be provided with a table that includes all your campaigns and their corresponding metrics. Order the campaigns by the data you are interested in and compare them.
FACEBOOK ADS AND INSTAGRAM ADS
Connect Facebook Ads with Metricool to get the most of your ad campaigns.
You will also get information about:
The reach of your ads.
Results of your ad campaigns.
The performance of your Facebook ads.
Download reports with all the information.
TIKTOK ADS
If you connect your TikTok for Business account to Metricool you will be able to measure the results of your campaigns.
You can know:
➡️ Reach of your campaigns
➡️ Results: information about clicks and conversions.
➡️ Performance: metrics related to the cost of the campaigns.
➡️ Campaigns table.
With Metricool you can connect your Google My Business accounts and manage your cards from Metricool.
Analyze all the analytics of your locations in Google
Program the publications that you want to appear in your file
Download reports on how your local SEO strategy works
You can manage and answer your Google My Business reviews directly from Metricool.
Analyze the success of your publications, photos and videos
Reports
If you have a Premium account, you can create reports with all the analytics. You will be able to show your customers, followers or sponsors how your social media strategy has performed and the reach and impact of your content.
On the left side of your screen, in Metricool's evolution tab, you can click Generate Report.
Customize the content of your reports by personalizing the data that you'd like to include. Adapt the design by including your logo in each of your report's pages.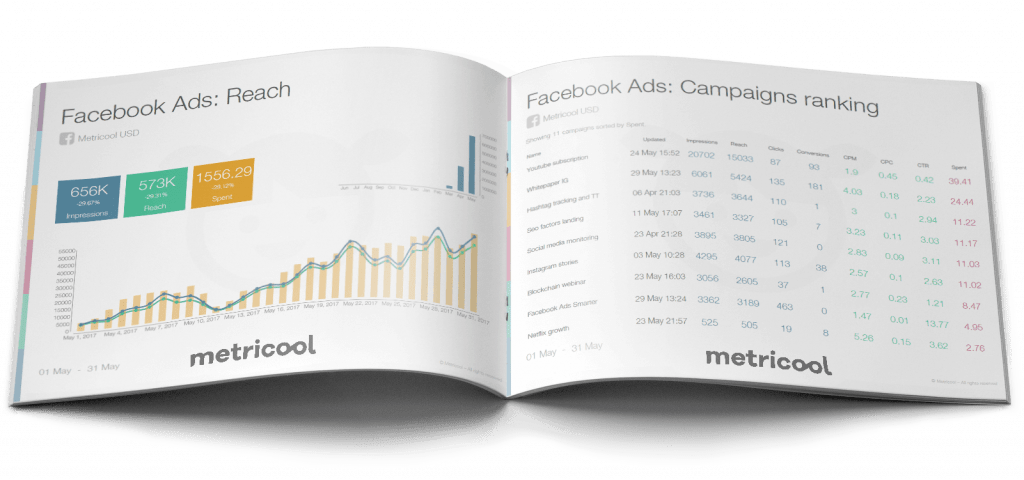 Other features of Metricool
Besides analysis and planning there are other functionalities that make Metricool even more complete:
MESSAGE MODERATION
In the section Real Time, you can find other features like Hashtag Tracker or Messages. If you click messages, you can moderate:
private messages from Twitter and Facebook.
any comment you receive on your Facebook and Instagram publications.
It's a great way of having all your social media messages in one platform that allows you to manage them easily and quickly.
METRICOOL SMARTLINKS: ADD MULTIPLE LINKS TO INSTAGRAM
Is it frustrating not being able to add links to your Instagram posts and only having one clickable link in the bio?
Don't worry. At last, you can link all the Instagram posts you want with Metricool and have more than one link, a great alternative to Linktree or other similar tools.
With the SmartLinks Metricool function, you can;
✅ Add a link to each post to direct your audience to the content you want. This way, you can bring traffic to your website and make it easier for your followers to reach your products.
✅ Add multiple links through buttons in the link of your bio: when a user clicks on your bio's URL, they will access a site with all the buttons you have previously set up from Metricool with links to the landing pages of your choice.
In addition to customizing these buttons with different colors and styles, you can customize the background for that page, among many other options.
✅ Analyze the performance of the clickable buttons, images, videos, and Instagram posts.
INSTAGRAM AND TWITTER HASHTAG TRACKER
Monitor your Instagram or Twitter hashtags and visualize all the metrics in real time and generate professional reports in PDF or PPT.
✔️ You will get all the information in one place that you can download in a professional report.
✔️ Access the Real Time tab in your account and click the second option on the menu situated on the left: #Tracker.
✔️ Once there, you can buy the days you want to monitor and fill in the data needed to start tracking.
COMPETITIVE ANALYSIS ON SOCIAL MEDIA
Analyze your competitors from the following social media sites: Twitter, Facebook or Instagram.
Tap the Evolution tab and choose the social media platform where you'd like to analyze your competitors. At the end of all the metrics, you can find a table that you can complete with the accounts of your interest.
→ If you have a Premium account you can add up to 100 competitors and change them anytime you want.
→ If on the other hand, you have a Free account, you can only add up to 5 competitors and you won't have the option to change them.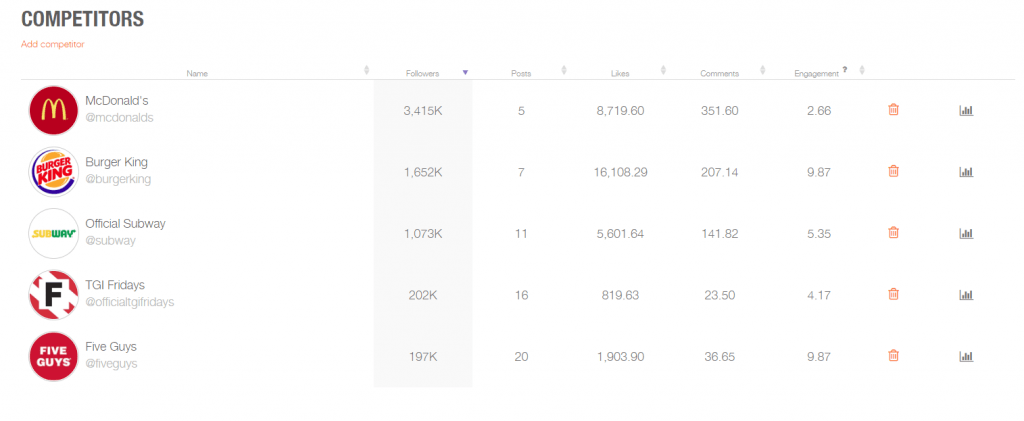 You will be able to compare their metrics and organize the table based on the metric you are more interested in. In this example, we organize the table by the number of followers.
If you click the icon on the right of each competitor, you can view the analytics in more depth: account growth, interactions and posts.
Now you know all about Metricool you can have a try for free!