Do you want to know how to schedule posts on Instagram?
Businesses, brands, and agencies love this option since it helps them save time to manage other day-to-day tasks and get on with their work faster and more efficiently.
To schedule a post on Instagram, either a story, reels, or videos, you need a tool to help you: let's start with Creator Studio, the Facebook tool, and then with Metricool.
Creator Studio: Schedule on Instagram
To use Creator Studio, you have to connect your business Instagram account with the Facebook page or profile by following the steps requested by the platform or through this Facebook Help link.
Once you have linked it, you can work with it. To program your content on Instagram from Creator Studio, follow these steps:
1 CLICK ON CREATE POST
If you are already inside the tool, click on 'Create Post', the button on the top left.
2 CHOOSE THE TYPE OF POST
You can choose between a post on the Instagram feed or a video.
3 EDIT THE POST
Write the copy, mention other accounts, include tags, add the multimedia elements or the location.
In the case of the Instagram videos videos, you can add a title, a description, a cover photo and share it on your feed.
4 PROGRAM THE POST
When you have everything ready, choose the date and time when the post will be posted and click Schedule. It's that simple!
You can also check out the calendar with all the scheduled posts.
Don't go anywhere. Let's continue… how to program on Instagram with Metricool?
Schedule Instagram Posts with Metricool
Programming Instagram is one of the best allies for businesses, brands or agencies. This gives you more time to manage other day-to-day tasks and get on with your work faster.
To program without complications, the first step is to find a partner that offers you all the functionalities you need on a daily basis to manage your networks.
That allows you to:
✅ Schedule posts
✅ Obtain all your metrics
✅ See how your ads are performing
✅ Create and generate reports
✅ Add links to your publications or add buttons to drive traffic to your site
✅ Analyze competitors
✅ Reply to comments
And, that it is always available to you.
Because programming Instagram is useless if you can't measure your marketing strategy.
So here you have your Swiss army knife: Metricool, the definitive tool to program Instagram and also measure what is happening.
Schedule images or videos to publish on Instagram automatically
You can automate your posts with images (not carousels) and videos on your Instagram feed. Program your post and it will be published on your profile the day and time of your choice. However, this option is only available for business accounts, not for creator profiles.
The allowed formats are:
✅ Unique images in JPEG or PNG format
✅ Videos in MOV or MP4 (MPEG-4 Part 14 format)
I get confused when I have to schedule content

Don't worry. You can program your content the same way for a story, reel, video or even a carousel.

With Metricool, you can select the type of format you will publish on Instagram: when you are creating a post, at the top of the window, you can see a drop-down menu where you can select the type of content, so when you receive the notification to post on Instagram, the app will take you to the stories/reels or feed section to publish a carousel or video.
Plan and publish on Instagram via email or push notifications
To publish carousels, videos longer than one minute, reels or stories you will have to do it through email or push notifications. These Instagram formats don't support the auto-publish feature. 
In this article we will explain step and step how to program your publications from Metricool to save time and make the planning and publishing process easier.
How to schedule and automate your posts on Instagram
At Metricool we have created an Instagram planner to make your life easier. Here you can check the best times to publish your content according to your community, plan it ahead of time so you don't forget it and don't leave anything to improvisation and even automate the publication of photos and videos.
The planning process is just as simple as it works for Twitter, LinkedIn, Facebook or Google My Business. If you have your Instagram professional account connected to Metricool, you will be able to plan your posts by clicking on the Instagram icon and also check when it is best to do it (this information will display in the calendar as long as you have more than 100 followers).
Schedule posts on Instagram automatically
Click on New Post and select the day and time that you want your content to be published.

Then, add the image or video and also the text that you want to appear in the publication.

In the preview option, you can see how it will display in your Instagram feed.

Now click on the auto-option to have your content automatically posted on Instagram

Choose the cover of your video from the planner. This function is only available if you activate the auto-publish option.

Now everything is ready to be published on your profile when the day and time comes.

Use the hashtag search engine to find the ideal tag for your post: write the keyword and choose the hashtag from the ones recommended.

If you have a Metricool Premium plan, you can use the hashtag search engine to find the ideal hashtag for your post. Then, write the keyword and choose from the hashtags recommended by the platform.
WHAT TYPE OF CONTENT CAN YOU SCHEDULE FROM METRICOOL SO IT CAN BE PUBLISHED ON INSTAGRAM AUTOMATICALLY?
✓ IMAGES IN JPEG or PNG FORMAT that meet the following requirements:
Maximum file size: 8MB
Aspect ratio: Must be within a 4:5 to 1.91:1 range
Minimum width: 320 (will be scaled up to the minimum if necessary)
Maximum width: 1440 (will be scaled down to the maximum if necessary)
Height: Varies, depending on width and aspect ratio
✓ VIDEOS IN MOV or MP4 FORMAT that meet the following requirements:
Container: MOV or MP4 (MPEG-4 Part 14), no edit lists, moov atom at the front of the file.
Audio codec: AAC, 48khz sample rate maximum, 1 or 2 channels (mono or stereo).
Video codec: HEVC or H264, progressive scan, closed GOP, 4:2:0 chroma subsampling.
Frame rate: 23-60 FPS.
Picture size:
Maximum columns (horizontal pixels): 1920
Minimum aspect ratio [cols / rows]: 4 / 5
Maximum aspect ratio [cols / rows]: 16 / 9
Video bitrate: VBR, 5Mbps maximum
Audio bitrate: 128kbps
Duration: 60 seconds maximum, 3 seconds minimum
File size: 100MB maximum
In the end, these are specifications required by Instagram when it comes to publish videos and images in the feed.
In the event that you check the auto publication option and you use different formats

or you want to publish carousels, reels, stories or videos, that are not available for auto publication, you will receive a notification so you can do it manually.
Schedule and publish post on Instagram via email or push notifications
If you are using different formats that you can't publish automatically, you have a creator account or simply prefer to have your content plan ahead but publish it manually, the notification option is for you.
→ Plan your content on Instagram. Choose the image and plan the content.
→ Upload videos. Remember that the format is MP4 or mov.
→ Program a carousel. Up to 10 images
→ Publish stories, reels or videos. Schedule your content and when you receive the notification you will choose the location on Instagram.
You can choose where to receive the notification when it is time to publish on Instagram, via push- notification on your phone or by email.
Remember that you can also choose the type of post in the planner, so when it is time to post, Metricool will take you directly to the stories/reels or feed section to publish a carousel or videos longer than one minute.
PUSH-NOTIFICATION→ IF YOU HAVE METRICOOL'S APP DOWNLOADED ON YOUR PHONE
If you have the Metricool app installed on your phone, you can activate push-notifications. That is, a message will arrive on your phone to remind you that the time to publish on Instagram has come.
Along with this notification you will receive the images and text that you have programmed beforehand:
The programmed image or video will be automatically saved in your photo application.
The text that accompanies the publication will be saved to the clipboard.
The application takes you to the stories or the feed to upload the content: stories, Reels, videos, or Feed.
That simple!
When this message arrives you will see a red button to post on Instagram so you can publish the content you had programmed.
To set up these notifications you have to access Metricool from your computer and go to the Planner. Go to notifications, at the top-right corner and select where you want to receive the notifications. Remember that if you want to receive push notifications on your phone, first you need to download our app on your device.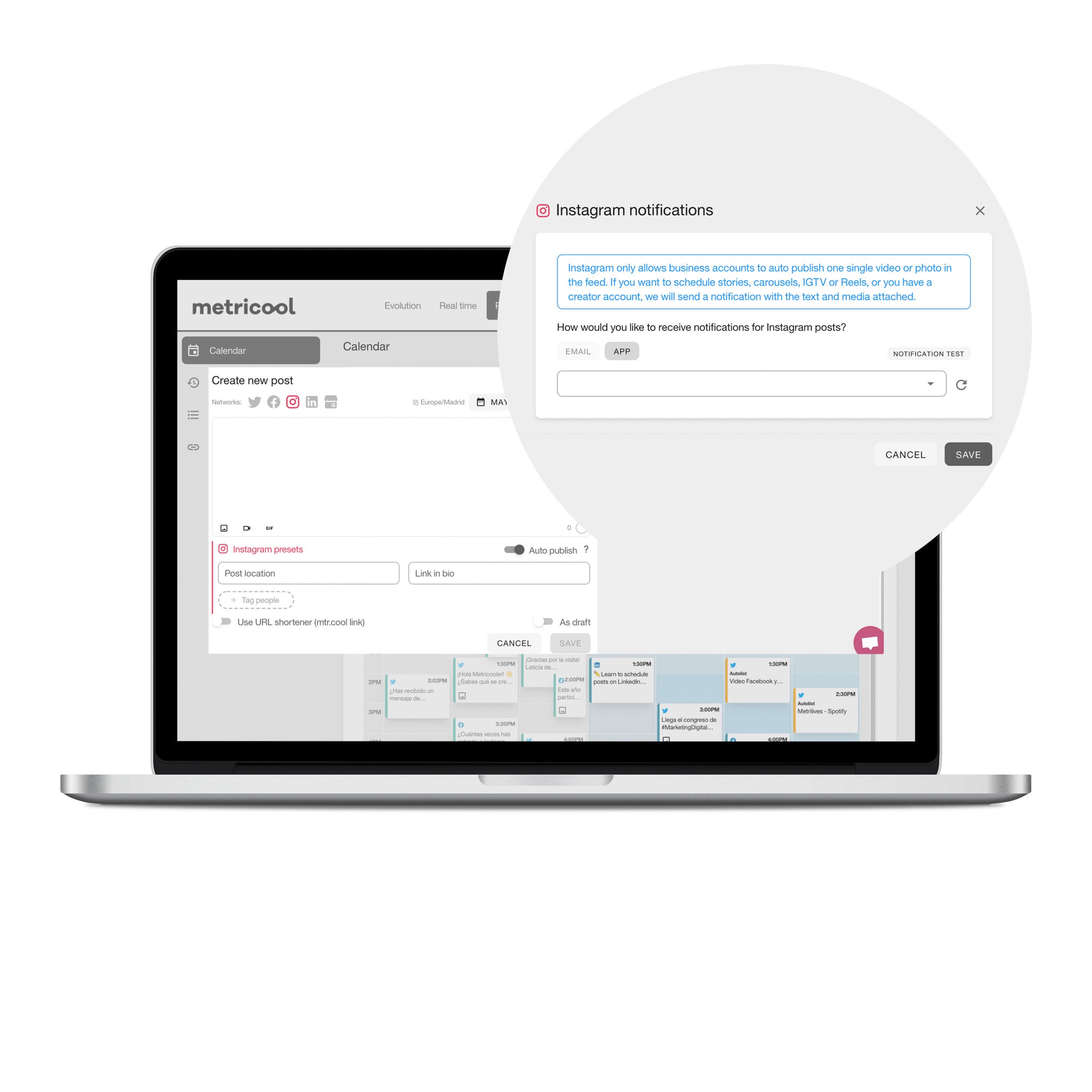 EMAIL NOTIFICATION
Choose the email address where you want to receive the message and we will notify you.
When you receive the message you will know that the time to publish has come. You will receive the images or video and text that you have programmed. The following steps will take a few seconds:
Click on Post on Instagram
Choose where you want to publish the content. (for example, post feed)
Choose the image from your gallery.
Copy the text from the clipboard
⚠️ Important

When you select to schedule Reels, stories or videos the autopublication button is automatically disabled. Whereas if you program a carousel in the feed  you have to toggle it off manually, otherwise you will not be able to plan the content.
Best hours to publish on Instagram
The best time to publish is based on your followers. On the calendar planner, you can check which hours most of your audience is active which will help you to increase your reach.
Select the Instagram icon on Best Time On and you will discover those worthwhile hours to publish and share your photos and videos, according to the data and activity of your followers.
If the shade of the pink color is darker, it means that your followers are more active. You can also see it in figures by checking this option: a percentage of active followers for a specific time slot.
Feed preview
How many times have you uploaded a post to Instagram and deleted it because it didn't convince you how it looked in the feed? With Metricool, this won't happen again with the Instagram feed preview feature.
With this functionality, you'll make sure your feed looks good. That is, all the posts are well organized. Check whether an image looks good or not, or simply see how the Instagram feed will display with all the scheduled and draft posts.
Calendar and autolists
Use the calendar to schedule and not lose the rate of publications that you have used to your audience. You can also generate your own autolists to facilitate the task of sharing posts on Instagram.
MORE INFORMATION ABOUT INSTAGRAM…
Do you want to know how to improve your Instagram strategy?
Read our guide on Instagram Marketing and get started now!
Benefits of scheduling and automating Instagram
Social media tools have one main purpose: to make your life easier. These tools help you save time and allow you to pay attention to the tasks that require more interaction.
Here is the list of benefits of scheduling your Instagram content:
KEEP YOUR FOLLOWERS HAPPY
Taking care of your followers on Instagram or on any social network is very important. Scheduling posts will help maintain your posting rate and also your engagement rate
Happy followers mean good results.
Avoid last minute mistakes
Rushing is not good, and planning ahead will help you avoid mistakes. When you schedule your posts on Instagram you do it with time, you can review, search for the most popular hashtags to include in your publication and even check it with colleagues.
In addition, you will see all the publications of your strategic plan in one place. This will help you detect errors and make your job easier.
IT WILL IMPROVE YOUR STRATEGY ON INSTAGRAM
Measuring and analyzing your results is the only way you have to design a winning strategy. In addition, with Metricool, you will see how your account grows and also:
The photos, videos and publications that have worked best.
The best hours to share on Instagram.
The number of followers gained and lost.
You can also obtain a performance report of your strategy on Instagram for both you and your clients
YOU WILL BECOME MORE PRODUCTIVE
Scheduling on Instagram will help you:
Earn extra time
Have more time for tasks that really matter
Increase results
Keep your Instagram account always active
If you are a community or social media manager or agency, the feature to program and automate content on Instagram will come in very handy.
Start now to schedule your publications on Instagram and you will see how saving time and improving your results is possible.

Do you like this feature? Does programming on Instagram work well for you?

We will read your comments.